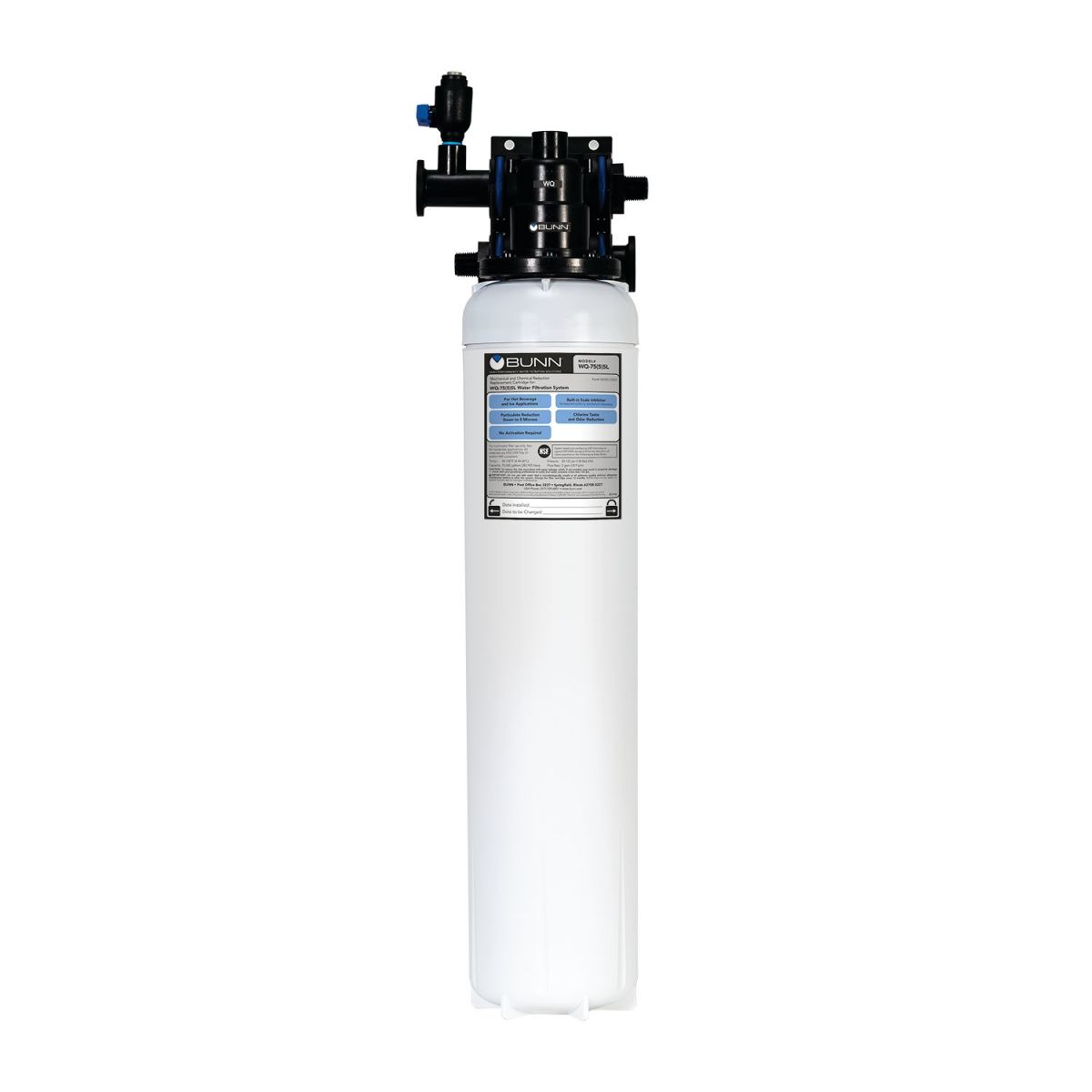 WQ-75(5)5L SYSTEM
High Performance Water Filtration Solutions
56000.0018
Designed for high volume applications and higher flow rates, the WQ system protects from hard water and high lime locations that can degrade your equipment's internal components and clog spray heads leading to longer brew times and inconsistent beverages. This system provides chlorine taste and odor and lead reduction for up to 75,000 gallons while also reducing particulates which could damage the inner elements of your equipment. The result is clear, fresh water to your machine, improving flavor, quality, and overall appearance of your coffee and carbonated beverages.
Features:
Certified to NSF Standard 42 for Sediment, Chlorine Taste and Odor reduction
Designed for high volume applications using a unique blend of catalytic coconut shell carbon rated up to 75,000 gallons chlorine taste and odor reduction for consistent, great tasting cold and hot beverages, hot water, and ice
Built-in by-pass indicators on filter head provide visual confirmation of the filter's internal integrity taking the guesswork out of the system's performance ensuring that only filtered water is being delivered to beverage equipment at all times
Protects downstream equipment and reduces sediment particles with 5 Microns mechanical filtration offering exceptional sediment holding capacity and particulate reduction
Auto-leveling technology ensures perfect installation every time
Includes single stage filter head assembly with manifold bracket, 3/8" MNPT fittings and 1/4" quick-connect rinse valve
Unique modular filter head manifold design allows for simple installation, customization, and future system expansion
Sanitary quick connect valve-in-head design simultaneously shuts off and vents water with ¼ turn, allowing for simple cartridge change-outs and maintenance times
Save on maintenance and service costs with a high performance scale control blend that's specifically engineered to last throughout the entire life cycle of the filter resulting in reduced scale build-up on evaporator plates and heating coils in both ice machines and coffee brewers
Show more
Residential Users: Warranty is void if commercial equipment is used for residential or non-commercial use.