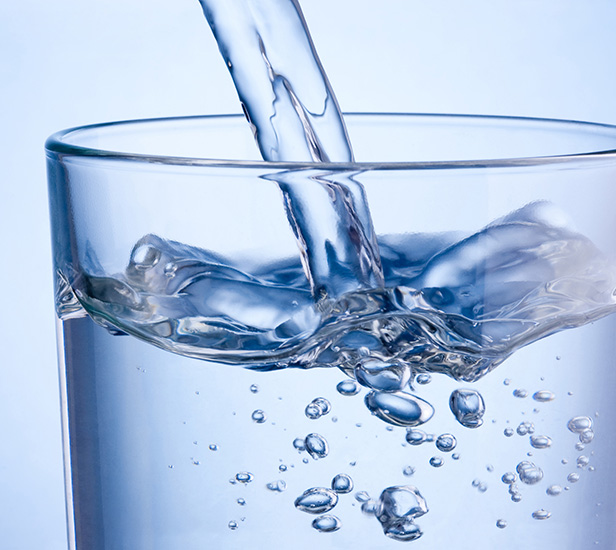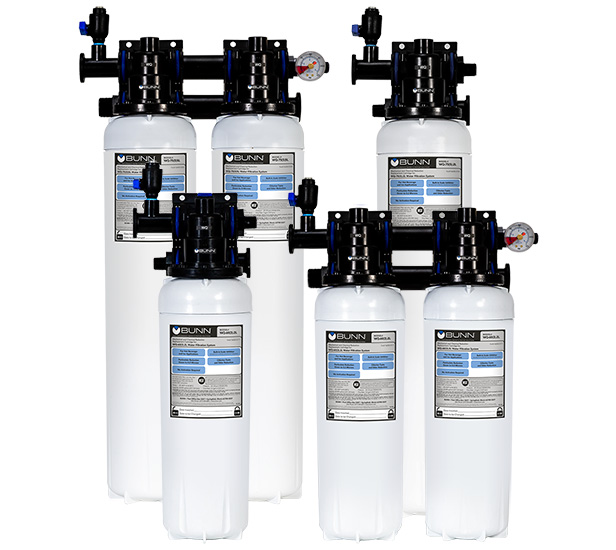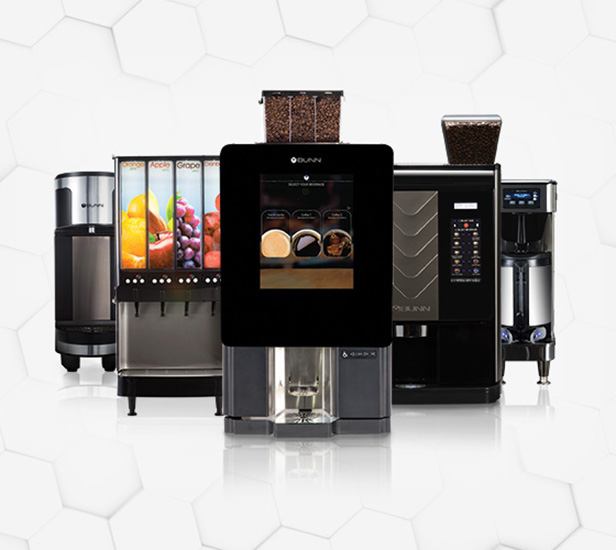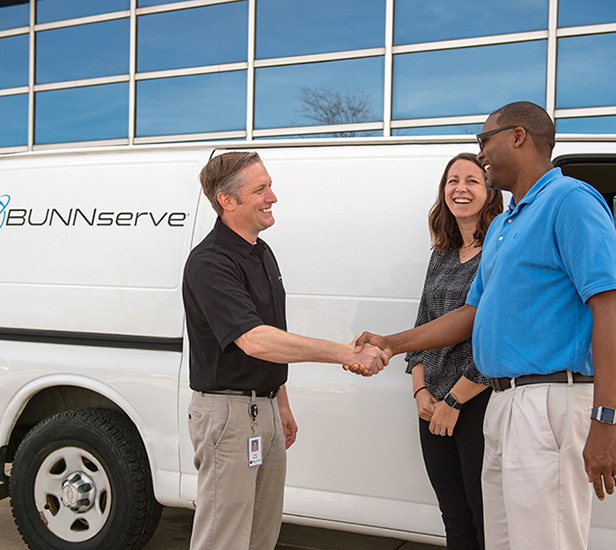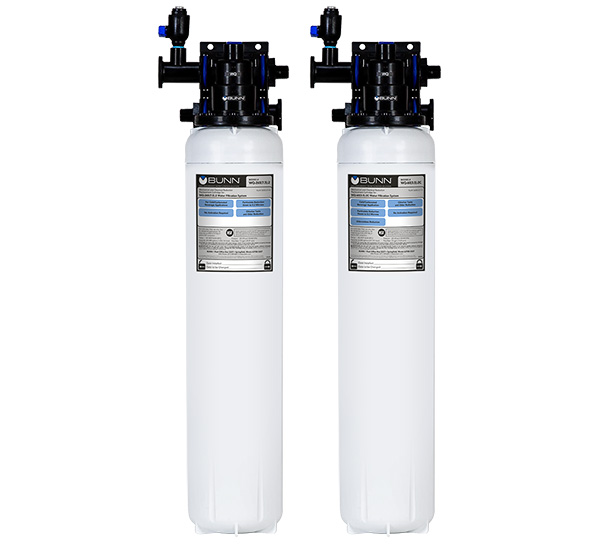 Water is the Foundation
Water is the main ingredient in prepared beverages and central to so many characteristics present in the cup. Around the world, water is treated to make it potable, but the resulting formula is not necessarily ideal for preparing quality beverages. BUNN is your partner in evaluating commercial foodservice water specifications and who you can use to create the ideal recipe water for all your beverages.
Lower Cost of Ownership
Superior high-grade extruded carbon block design allows filters to perform the majority of the physical and mechanical filtration needed for quality water. This results in extended overall filter life and less frequent change-outs due to premature clogging or short-cycling.
Most-by-Volume Scale Control
Cartridges with built-in scale inhibitors ("L" filters) contain the highest amount of scale control blend engineered to last throughout the entire cycle life of the filter. This maintains beverage consistency, protects equipment, reduces service costs, and extends time between preventive maintenance periods.
Service-friendly Modular Design
Modular and expandable design allows water filtration systems to grow with the operation's water quality needs. Expand systems from point-of-use to back-of-house packages seamlessly and optimize installation visits with a design that has configurable flow paths, bypass detectors, and simpler filter changes. BUNN offers a full range of water filtration systems and managed service programs that ensure your water quality needs are taken care of as your business grows.
High Capacity Filters to Meet Industry Needs
Replace multiple cartridge systems with fewer cartridges or with a single high capacity/high flow Chlorine or Chloramine filter resulting in overall system savings.
Our Filter Solutions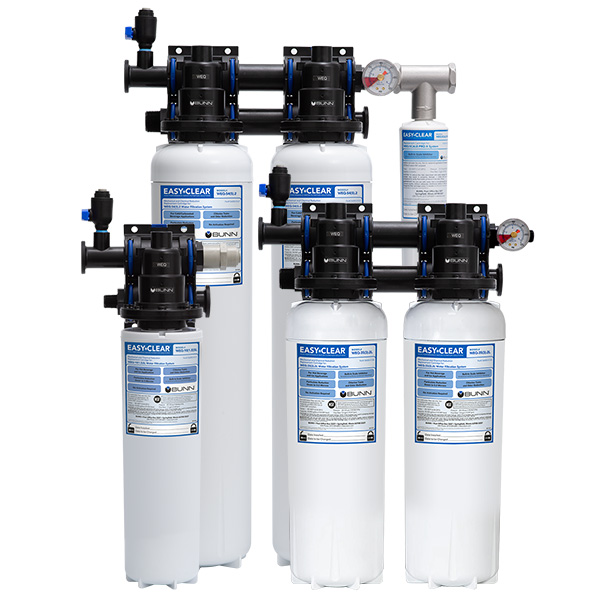 WEQ Products
Our point-of-use filters and systems are perfect for equipment-specific water filtration needs. Compatible with our current EasyClear product line, WEQ filters are designed to provide the same quality recipe water with just a slightly different look.
Shop WEQ Products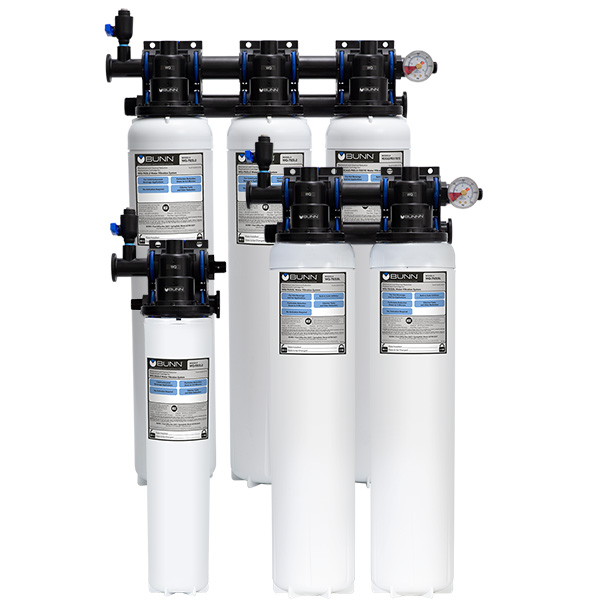 WQ Products
For multi-point water treatment needs at the full beverage bar level, WQ products offer a modular design that allows for customization and expandability along with superior mechanical water filtration performance. Most of these filters treat higher volumes of water with some having the highest capacities available in the market. In many cases, replacing multiple cartridge systems!
Shop WQ Products

Built by Science. Backed by Expertise.
BUNN is your partner in navigating the advances of water-filtering technology. Through our Beverage Lab and water treatment resources, we can help measure, aim and treat issues associated with a less-than-optimal water supply.

High Performance Water Filtration Solutions
BUNN High Performance Water Filtration Solutions are designed specifically to operate in a variety of foodservice applications where water quality is a must. Our solutions ensure consumer satisfaction, providing you the peace of mind that your equipment and water quality needs are taken care of. Focus on what you do best: quality food and beverages.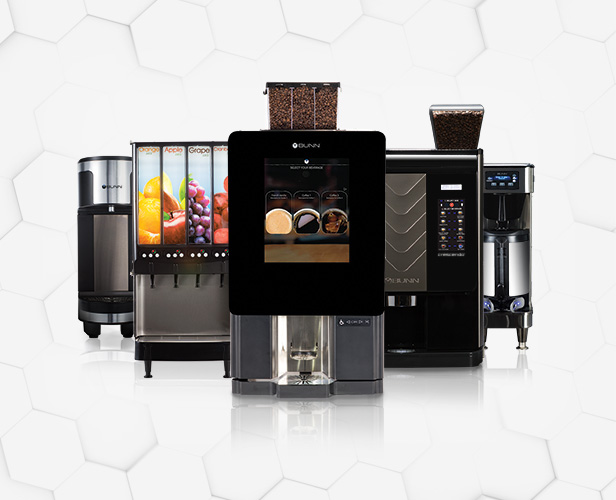 Enhanced Equipment Life
BUNN offers a variety of water filtration solutions that are designed to reduce chlorine, chloramines and other particulates in the water which will improve the aroma, taste and clarity of all your beverages. Scale and corrosion-inhibitor packages can be automatically fed into the recipe water to ensure equipment are protected from unexpected service events and downtime.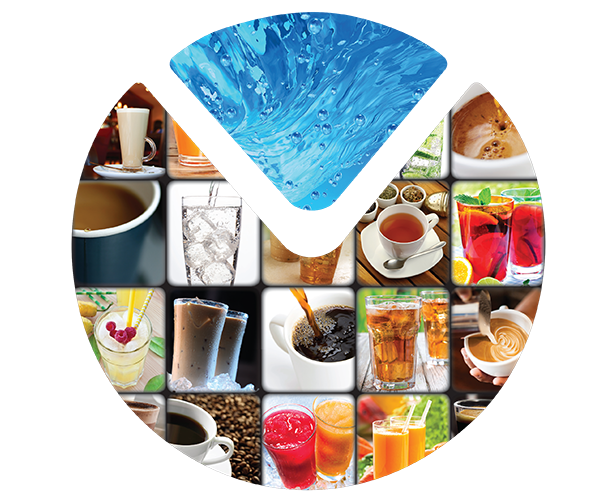 Improve Water Quality for Entire Beverage Program
Improve overall taste and quality of beverages and ice with recipe water tailored to meet the specifications for a single piece of equipment or the entire beverage program
Remove sediment, treat hard water, reduce chlorines and/or chloramines to allow optimum amounts of minerals for the Best Result in the Cup
Achieve maximum potential and efficiency of the entire beverage program with a multi-point mechanical water filtration system that ensures quality offerings and guest satisfaction

Expert Partners. Total-Service Solutions
Water is the essential component of any prepared beverage and is even represented in the BUNN logo with a blue pie shape – the alchemic symbol for water. Although water is treated around the world to make it potable, it may not be ideal for producing quality beverages and protecting beverage equipment.
BUNN is the partner you can count on to manage your water filtration program backed by a full portfolio of innovative beverage equipment and customizable, professionally-managed service programs across all beverage platforms. Our total-service solutions improve operational efficiency to ensure repeat business and quality in every cup.
Model variants & specs
WEQ Products