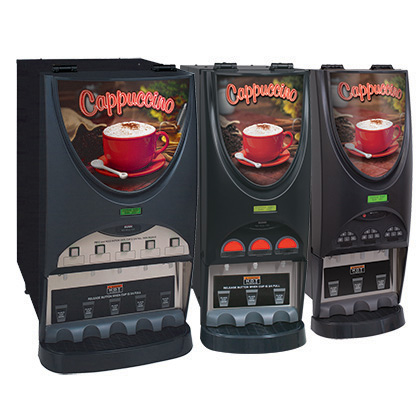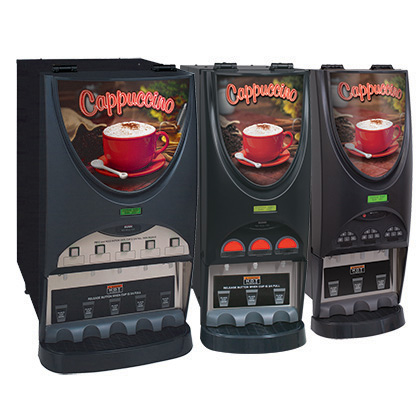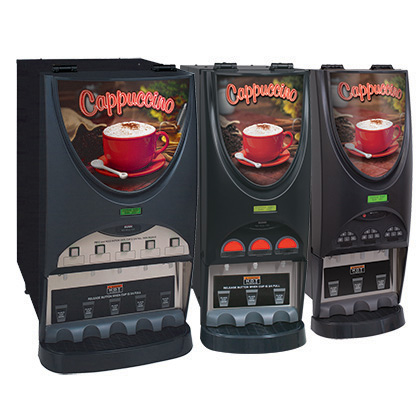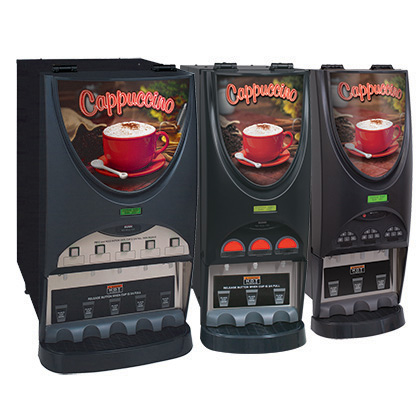 The iMIX line of Hot Chocolate & Cappuccino dispensers provide a quick and easy solution for hot beverages on-the-go. Ideal in fast-paced self-serve applications, customers will benefit from the iMIX user friendly design. Introducing new flavors for each season is made possible by 8lbs hoppers individually filled with products of your choosing. Lighted door graphics draw attention to the user-friendly design.
The iMIX models come equipped with 8lbs hoppers to reduce operator contact time during peak serving hours. Dispensers deliver up to 4.5 gallons per hour and cup clearance goes up to 8.12" to accommodate popular cup sizes. A powerful product whipper alongside its responsive powder auger drive system guarantees customers walk away impressed with a fresh, flavorful, and consistent drink.
Available iMIX® models include 3 & 5 head dispensers. The iMIX® boasts a small footprint and is conscience of its size by maximizing output where counterspace comes at a premium. Top hinge models allow operators to perform cleaning and maintenance without disrupting bordering equipment. Door locks are also included to prevent tampering.
The iMIX comes with an alphanumeric display with advanced controls to allow operators the ability to finely tune product ratios – protecting flavor profiles and profits. Temperature adjustments for environments that require lowered serving and handling temperature specifications are included. The iMIX® 3 & 5 Silver Series (S+) provides operators the option to pre-program dispense volumes with portion control settings. In self-serve applications, this eliminates over-flowing cups, minimizing waste and messes.