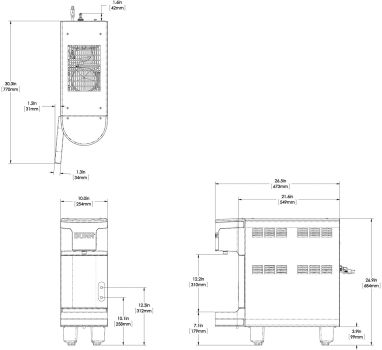 BUNN refresh® -Counter Top Portion Control White
45800.0003

Warning
This product can expose you to chemicals including BPA, which are known to the State of California to cause cancer, birth defects, or other reproductive harm. For more information, go to www.p65warnings.ca.gov.
Dimensions:
H 26.9"
W 10.0"
D 28.1"
Sparkling and Still water dispenser with patent-pending water mistifer delivers purified, premium water elevating the customer beverage experience.
Features:
Offers three portion control settings for Still Water, and three portion control settings for Sparkling Water
One water filtration system included. Purity achieved with water filtration technology certified to reduce cysts, lead, particulates, chloramines, chlorine taste and odor and up to 99.99% of common water- borne bacteria
In-line patent-pending water mistifier provides the delicate balance of purified, cold water and "light" carbonation for longer lasting sparkling water and optimal absorption of flavors
Recommended for the Quick Serve, Full Service Restaurant, Healthcare, College and University, Amusement and Leisure, Office Systems, Lodging/Hospitality, Convenience Store and Specialty/Retail Bar channels
Recirculation loop ensures cold water is constantly circulating for consistent low casual drink temperature of 40°F water
New visual design language worthy of front-of-the-house settings
The perfect instrument to incorporate infusions and natural ingredients for crafted beverages
Show more
This product may no longer be available for purchase or may have a suggested alternative . Please call 1-800-626-2866 for assistance, or use the "Learn more" button to submit a request for more information.
Learn more
Residential Users: Warranty is void if commercial equipment is used for residential or non-commercial use.
Spec Sheets, Manuals, & Marketing Documents
ADA
Supports Reqts as Shipped
Electrical Configuration
120 volts
540 watts
5.2 amps
1 phase
60 hertz
2 wire
Min/Max Water Pressure(PSI)
Product Warranty
2yrPrts/1yrLabor/3yrCBA/5yrCpr