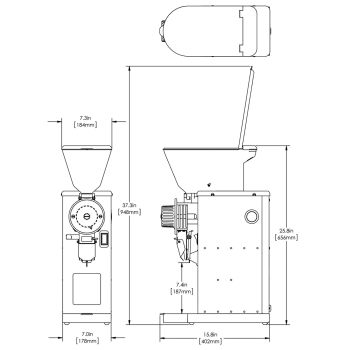 GVH-3, 220-240V 50/60HZ CE Euro
GVH-3, 220-240V -Visual Hopper Grinder- 3lb,
55600.0301

Dimensions:
H 25.8"
W 7.3"
D 15.8"
Whether grinding coffee for a single cup brew or grinding a pound of great coffee for a discerning customer, the BUNN G Series Visual Hopper (VH) delivers fast, precision grinding into a variety of common bags, cans, and containers. The sleek new styling allows the operator to promote fresh ground coffee in any service environment, whether it be a coffee shop, grocery store, market or any of a host of venues. With its 340° grind selection dial, the G Series VH gives the barista/operator complete control of grind resolution. The G Series VH is simple and easy to operate.

The BUNN G Series VH Grinder is the ideal grinder for Specialty Coffee Shops, Cafes, and Grocery Stores.
Features:
340° dial resolution for precise tuning of grind particle size
Industry leading grinding burr warranty
Ergonomic clamp for holding smaller size bags and containers in place for hands-free operation
New sleek styling with visual 1.36 kg (3 lb) hopper promotes freshly ground coffee
Base Model 55600.0002 can be purchased separately, as can any of the compatible hoppers (.45kg hopper=p/n 54329.1000; .90kg hopper=p/n 54332.1000; 1.36kg hopper=p/n 54335.1000)
Versatile design allows grinding into bags, cans, and cups and other containers to meet a multitude of customer needs
Fast grinding – 1.36 kg (three pounds) in about 90 seconds – maximizes speed of service
Bag switch prevents grinding before bag/container is in place
Precision Rockwell 65C hard burrs provide consistency, grind after grind
Easy to use cleaning lever ensures complete removal of all ground coffee from the grind chamber
Show more
This product is not available for online purchase. Please call 1-800-626-2866 for assistance in purchasing this product, or use the Learn more button to submit a request for more information.
Learn more
Residential Users: Warranty is void if commercial equipment is used for residential or non-commercial use.
Spec Sheets, Manuals, & Marketing Documents
Electrical Configuration
220-240 volts
990-1080 watts
6.5-7.8 amps
1 phase
50-60 hertz
2 wire