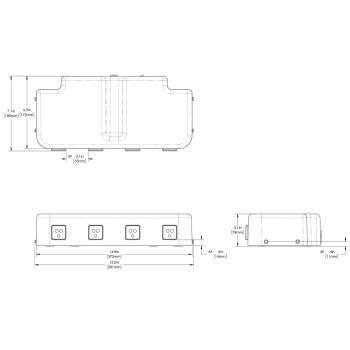 4S Touchless (No Water) Kit (Old Switch models)
45541.1004
Dimensions:
H 3.06"
W 15.0"
D 7.2"
How it works:
Place your cup under the desired beverage dispense nozzle
Then, simply place hand or fingers in front of the sensor corresponding to the beverage selection
While hand is placed in front of the sensor, the blue LED will flash several times (to confirm the selection)
The LED will then light solid blue and the dispense will initiate. The dispense will continue if the hand remains in front of the sensor
Removing hand from the sensor will stop the dispense; however, the LED will remain on for a few seconds. This allows for additional dispensing if "topping off" the cup is desired
Once the LED turns off, the next dispense will require the flashing sequence again before initiating dispense
Features:
Simple to use, hands-free beverage dispensing
Simple installation (very similar to installing our ADA compatible kits)
Addresses selections of multiple dispense heads, dispense actuation, and topping off the cup
No need to purchase new dispenser – kit retrofits to current dispensers
ADA Compatible
Provides the safety and confidence your customers demand
Show more
Residential Users: Warranty is void if commercial equipment is used for residential or non-commercial use.