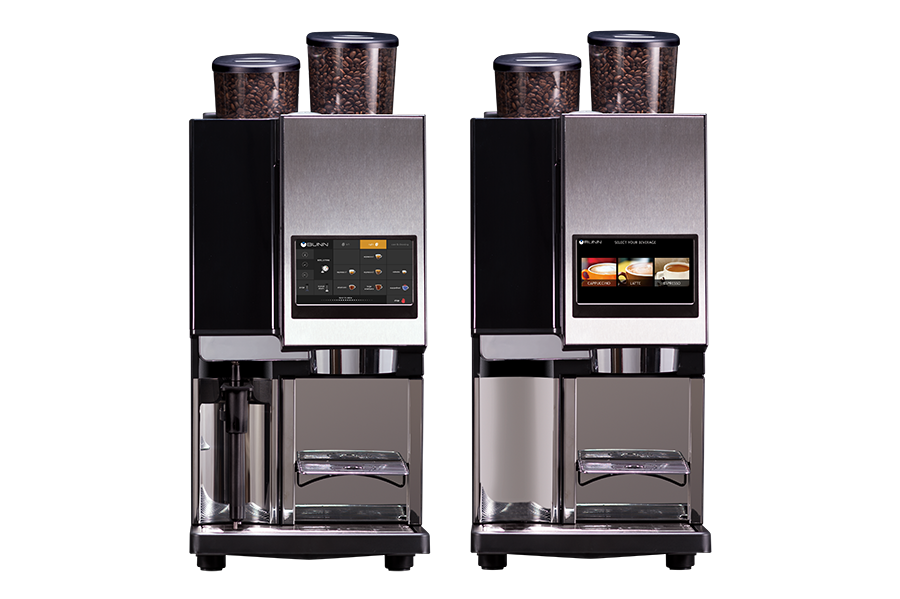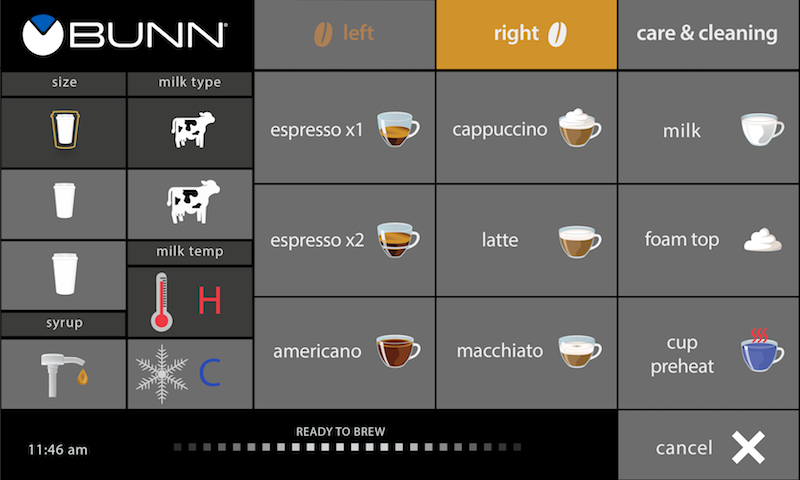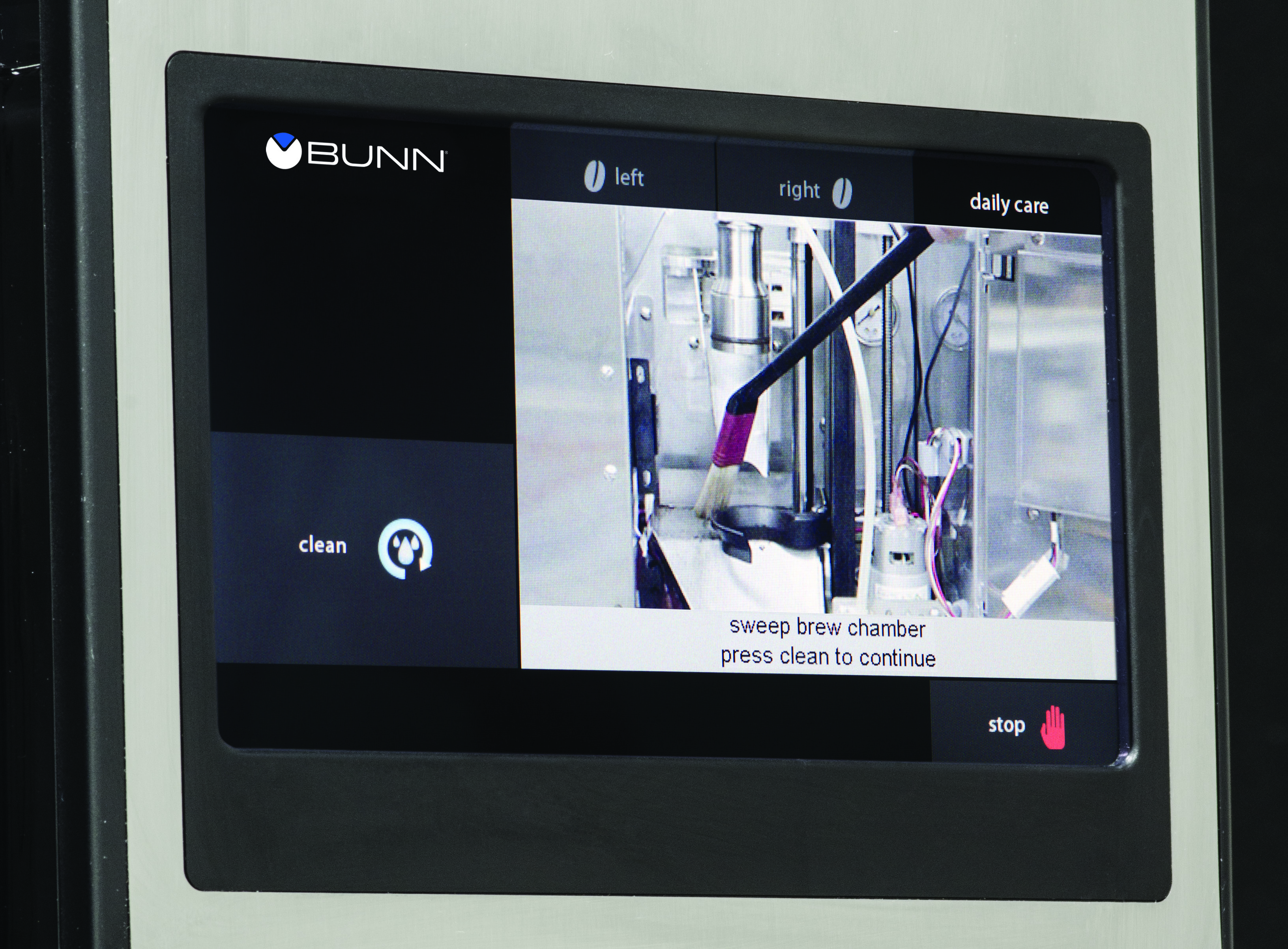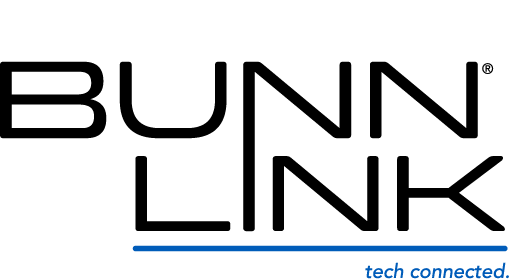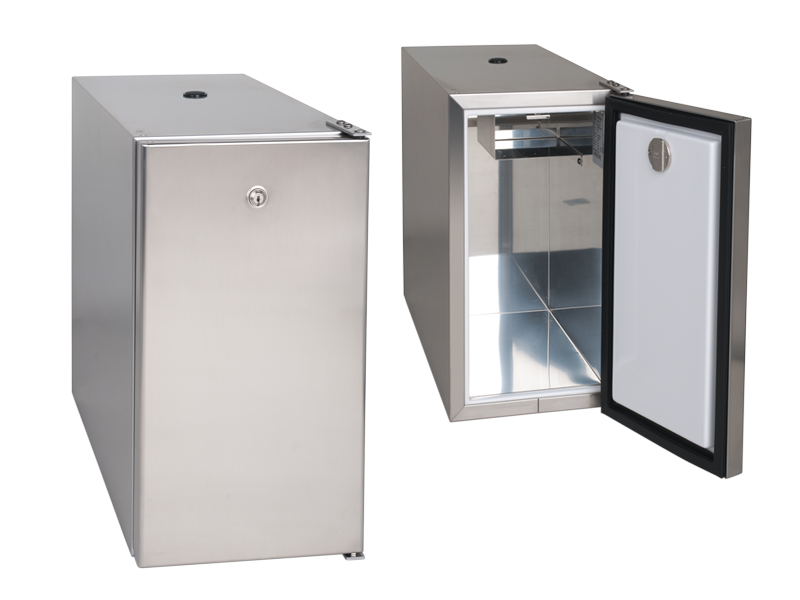 We leveraged decades of beverage engineering and materials knowledge to design the exclusive Sure Tamp process incorporated into the Brew System Assembly. An all-metal construction, it uses a proximity sensor to ensure the precise tamping pressure and correct compaction, assuring that each puck will provide the best shot of espresso.
Build-A-Drink™ Touchscreen
The large 7" touchscreen on BUNN Superautomatic is an easy-to-use and intuitive control console that allows the operator to easily create a full menu of espresso-based beverages. The Build–A–Drink™ touchscreen has placement options for nine of your most popular drinks.
Picture Prompted Cleaning™
Instead of trying to find time to read manuals or view training videos, the touchscreen displays high resolution images to guide the operator step-by-step through proper cleaning techniques.
BUNNlink is an IoT machine management platform built by BUNN to provide a secure mechanism to remotely monitor and communicate with connected equipment. BUNNlink enables data backed business decisions and allows the deployment of a customized user interface.
Designed to accommodate two standard 1gal (3.79L) jugs, this unit works in conjunction with BUNN Espress® to deliver two types of milk. Can be configured side-by-side with machines or placed below the counter.
Sure Tamp Models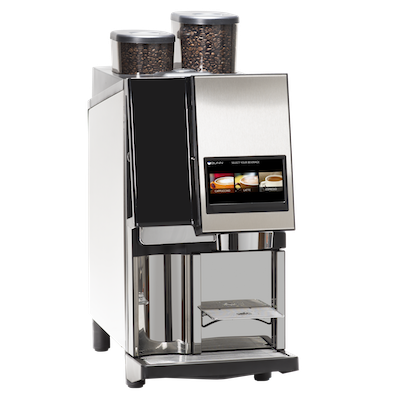 Sure Tamp Auto
The Sure Tamp Superautomatic espresso system delivers café-quality steamed and frothed milk for hot and cold lattes and cappuccinos. The BUNN-exclusive three-stage milk nozzle system incorporates milk, steam, and air in the proper ratios while controlling initial bubble formation and size. From here the flow is slowed, further homogenizing and refining the micro-foam milk just before it's delivered, splatter-free, into your cup. The result is rich and creamy milk with the right amount of sweetness.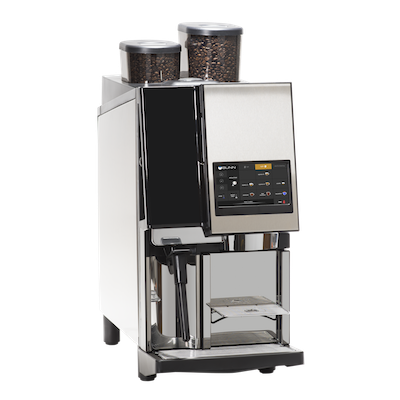 Sure Tamp Steam
This model comes with BUNN Intellisteam™ wand, a milk steaming tool engineered for the Barista - but can be used by operators of varying levels of experience to comfortably and quickly build their skill level. The cutting-edge steam production allows for unprecedented control in the steam pitcher while also allowing for full engagement in milk production and cleaning. The wand itself is insulated with a material uniquely-engineered for continuous high performance that is impervious to repeated use of hot water and steam. The outside of the wand is resistant to milk baking and abrasion which means a hassle-free cleaning experience, less repairs, and a longer product life cycle.
Model variants & specs
Sure Tamp Models
U.S. Market
LATAM Market
Mexico Market
Ready to learn more about Sure Tamp?